I deliver engaging, interactive keynotes that share why drawing is such a powerful thinking tool — and concrete, accessible hows that get your people immediately picking up paper and pen to make meaning of their work and your event.
Beyond "sage on the stage," I use my experience as a trainer and facilitator to create a custom experience for your audience.
So happy to lead a half day session during EuViz Brussels Powwow
April 30 - May 1, 2017.
Details here.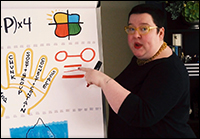 Click here for my introduction to The Idea Shapers. WHY drawing is a great thinking tool, WHAT is inside, WHO it it for. >
View my 2013 TEDxWindyCity talk, Shape Your Thinking. >
Browse my YouTube channel for more examples of my speaking style and content. >
Contact me to discuss speaking at your event, retreat or conference. >
My signature program is The Lab, a three-day immerision into visual thinking through the lens of graphic facilitation. Six people join me in this safe yet challenging environment full of practice, conversation, experiementation and direct feedback.
I also create custom learning programs that can be geared towards the process-focused corners of The Draw Quad:
•
Drawing to DO
Instruction on graphic facilitation, how to be the one person drawing to serve a group
•
Drawing to THINK
Geared towards individuals developing their personal visual thinking skills.
Reach out to me to explore how I can teach you and your team the best use of visual thinking tools. >
The Brandyfesto (PDF) s an introduction to my work and ideas.
Summer of 2016, my co-editors and I launched an anthology about our work, Drawn Together Through Visual Practice. Twenty-seven contributors share their processes and experiences in this rich volume.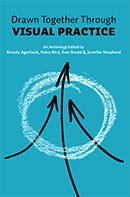 In 2012, I published my first book is The Graphic Facilitator's Guide, dubbed "The Graphic Facilitation Bible" by visual thinking leader Nancy Margelius. Learn more >
For two decades, I have worked as a graphic facilitator; the one person in the room mapping out the conversations and presentations for a wide variety of clients. I transform your discussion into a tangible drawing that frees your best mind to focus, make more connections, generate new ideas and understand their work in new ways.
As the visual, silent partner to a facilitator, I collaborate with you to make meetings more productive with the best use of visual, spatial and kinesthetic tools.
Watch time-lapse video of my graphic facilitation work at the Kennedy Center's 2016 Arts Summit.
Hour+ interview with Bikablo Radio about drawing as a process, facilitation and visual thinking.
See my Introduction to graphic facilitation (when I had hair). >
View my portfolio, with samples from my 20 years of work. >
Read my graphic facilitation FAQs to learn how to best work together. >
Learn more through my YouTube channel. >
Connect with me for details and to discuss if graphic facilitation is a fit for your event. >

At age two, I started drawing and I haven't stopped yet. In this section, you can see galleries of my many personal projects across drawing, printmaking, photography, sewing, ceramics. Anything that lets me think with my hands.
Visit The Circus, my latest series of gocco silkscreen prints. >
Peruse all of the Galleries of my personal work. >